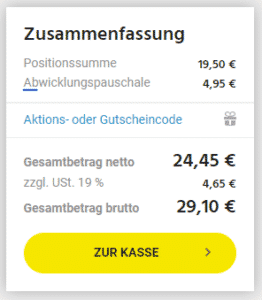 With the Schäfer Shop Settlement lump sums are Delivery or shipping costs This refers to the costs incurred for packaging and transport security. A minimum charge of 3.95? is made for business customers. 4.95? for an order value of less than 50? Without special promotions, the handling fee cannot be skipped.
Settlement fee for private clients
For private customers, the minimum amount is 4.70? Under an order value of 59.50?, Schäfer Shop charges 5.89? Special conditions apply, e.g. for forwarding deliveries or deliveries to islands or trade fairs. Here, as usual, a surcharge is due.